Working Group of the European Seismological Commission

SEISMIC PHENOMENA ASSOCIATED WITH VOLCANIC ACTIVITY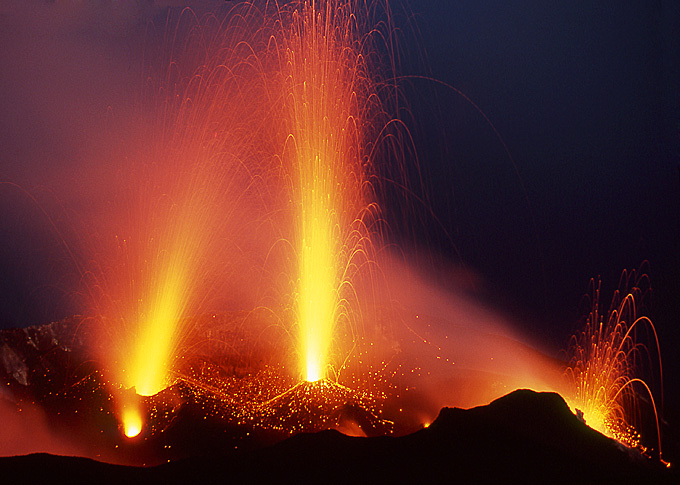 Very strong activity on Stromboli in October 2005. Photo Marco Fulle - www.stromboli.net
The Working Group on "Seismic phenomena associated with volcanic activity", or "Volcanism & Earthquakes" for short, was established to cover an increasingly important field in seismology which ranges from the seismic monitoring of volcanoes to the interpretation of seismic signals during various stages of activity. A full description of our aims can be found in our Scientific Program.
Every year we hold an annual workshop which have been often located on an active volcano. For details click on  Previous Workshops . For the details and location of our next workshop, please visit our Next Workshop page.
The Bruno Martinelli Fund was set up in memory of Bruno Martinelli to continue his work in encouraging scientific and personal exchange between scientists in Latin America and the wider scientific community. For details on applying for this fund: Bruno Martinelli Travel Fund.
A list of members of the ESC working group and their contact details are available: Members of the WG.
<![if !supportLineBreakNewLine]>
<![endif]>
Chairman:

Jurgen Neuberg

School of Earth & Environment
Institute of Geophysics & Tectonics
University of Leeds
LS2 9JT, Leeds, U.K.
Phone +44 (0) 113 233 67 69, Fax +44 (0) 113 233 52 59
E-mail:J.Neuberg@leeds.ac.uk

Secretary:

Roberto Carniel

Laboratorio di misure e trattamento dei segnali, DIEA
Universitą di Udine
Via delle Scienze, 208
I-33100 Udine, Italy
Phone +39 0432 558749, Fax: +39 0432 558302
E-mail:roberto.carniel@uniud.it